Electrical equipment supplies 1A 1000v dc power supply
Seller

Yucoo Network Equipment Co., Limited

Min. Order

1 Piece/Pieces

FOB Price

US $300-450 /Piece
Item Details
| | |
| --- | --- |
| Port: | Guangzhou |
| Supply Ability: | 10000 Piece/Pieces per Month 1A 1000v dc power supply |
| Payment Terms: | L/C,D/A,D/P,T/T,Western Union,MoneyGram,PAYPAL |
Product Description
Contact information
electrical equipment supplies 1A 1000v dc power supply
Contact Person :Iirs.luo
Skype : Iris.yucoo
Whatsapp :+86-13922788046
common data
electrical equipment supplies 1A 1000v dc power supply
Test Item

Performance Parameter

Model

YK-AD10001

AC wide input

1phase AC220V±15% 50/60Hz

Output range

Constant voltage 0~1000V (or appointed) variable/adjustable
Constant current 0~1A (or appointed ) variable/adjustable

Power

Max 1000W

Source Voltage Regulation

constant voltage ≤0.2%

Load Regulation

constant voltage ≤1%; constant current≤2%

Line regulation:

constant voltage ≤0.3%

Ripple Voltage

total ripple Vpp≤2% (max voltage)(60V*2%=1.2V)
100Hz Ripple: Vpp≤0.5%(max voltage)(60V*0.5%=0.3V)

Operation Environment temperature

(-10~45)°C

Efficiency

≥89%

Digital meter

voltage meter and current meter

Digital display

Precision of output voltage±1.5%
Precision of output current±2.0%

Insulating resistance

Input-Output:≥20MΩ

Input— Shell:≥20MΩ

Output-Shell:≥80MΩ

Insulating Strength

Input-Output:AC1500V,10mA,1minute

Input— Shell:AC1500V,10mA,1minute

Output-Shell:AC1500V,10mA,1minute

Imbalance of equalized current

≤5%+2.5A

Protection

Temperature control fan, over-temperature automatic protection; output overvoltage, over-current and short-circuit protection; switch-on delay soft starting can avoid the over swung output voltage when switching on.

over-temperature protection

(70~80)°C

MTTF

≥50000h

External dimension

340*80*265mm

Net Weight

7kg
Product show
electrical equipment supplies 1A 1000v dc power supply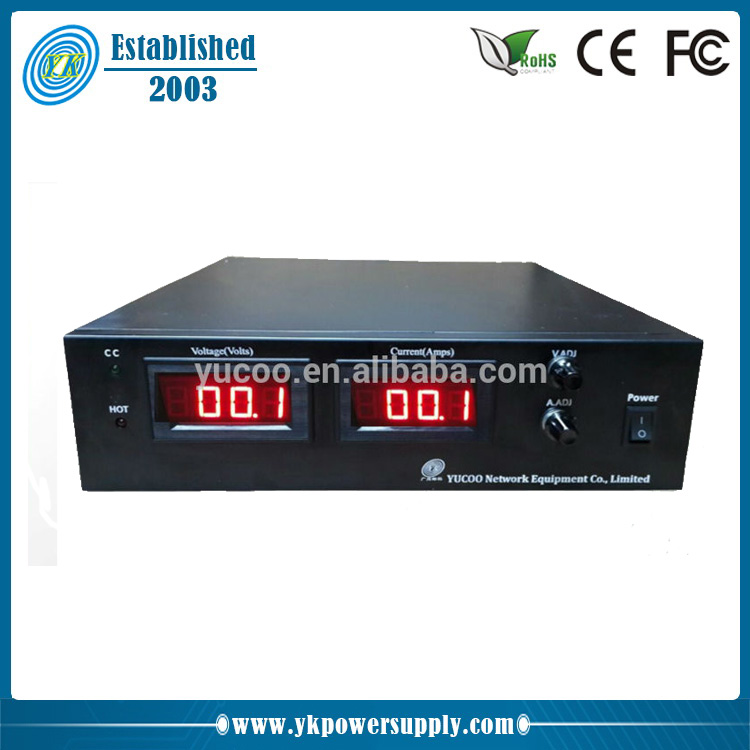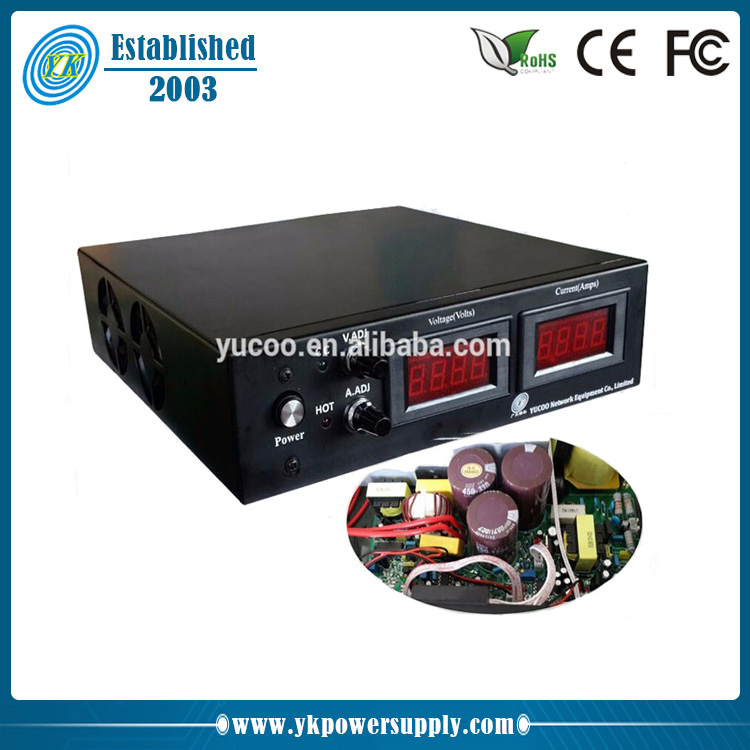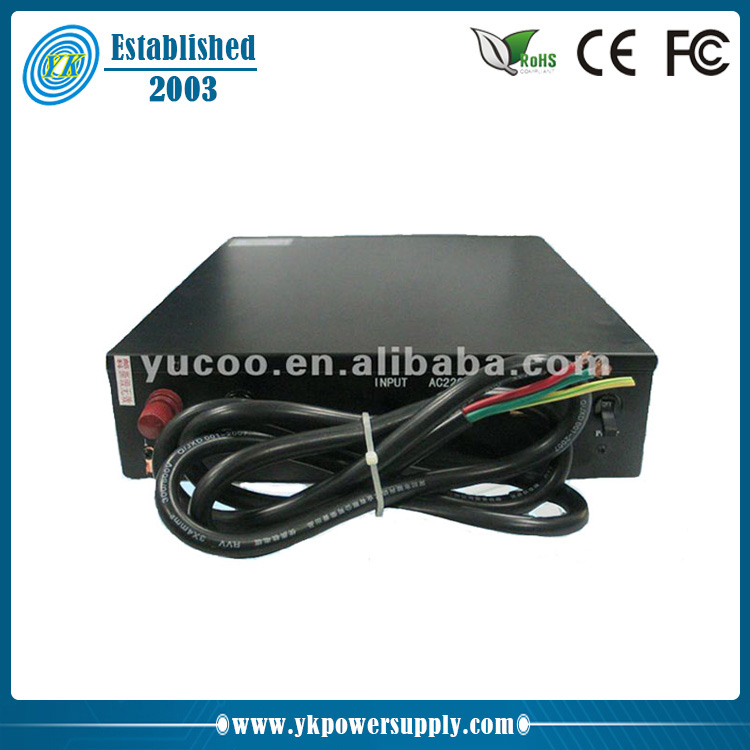 Adjustable FAQ
Question: What is your model definition for adjustable dc power supply
Answer:
Model YK-AD XXXYYY
YK—YUCOO
AD—AC to DC
XXX: max output voltage: 3 digits or 2 digits, Unit: V
YYY: max output current: 3 digits or 2 digits, Unit: A
Question :What fileds does the adjustable power supply mainly used?
Answer: It is widely used in electric power dc screen system, engineering control, communication,
scientific research, battery, agriculture and other equipment.
Question :What kind of power supply modules does the adjustable power supply consist of ?
Answer:
1. Transformer, rectifier module, filter and regulator circuit.
2. With transformer to make power grid voltage transformer, the rectifier circuit is used with unidirectional
conductivity of rectifying element to make alternate sinusoidal ac voltage ripple voltage of the rectifier
become single direction. Filter is used as much as possible filter out the ripple component of unidirectional
voltage ripple, get a more smooth dc voltage.The regulating circuit is to take some measures to make the
output dc voltage remained stable in power grid voltage or load current changes.
Question:Can you customize the double channel output or the multi-channels output?
Answer:
1. For now, we Yucoo can only make the double output, and the unit price will be 150USD more than the
same model that come put with one channel, and size will be also different.
2. Please come to the sales ask for more information.
Question: Can you make the power supply with stable output?
Answer: Yes
Question: Can you add PFC function?
Answer: The Yucoo power supply comes with the PFC function.
Question:Can I changed the larger capacity transformer to improve the capacity of the power supply
when I found the model I had bought is too small to start my load?
Answer: Yes, For example
You had YKAD1280 with 12vdc 80a dc power supply, but you need 15VDC 80A finally. Firstly, we suggest
you buy the transformer from Yucoo, and you have to make sure that your engineer can make this well,
if not, the original power supply may damaged. And one more ware notice, please do tell your whole
application to the sales before you make order, make sure the model is ok for you.
Question : What is the main problem when start up the dc power supply and CC Indicator ON >
Answer:The following situations may lead to a cross-flow, etc. CC panel light up
1. When start up the dc power supply and did not connect with load , the CC indicator ON
2. The current potentiometer had adjust to the minimum
3. The machine broke down
4. The potentiometer cable loose
5. Circuit Fault
Question: If the end user CITY Power is 240VAC+/-15% but our power supply design is 220VAC+/-15%,
does it still can working well ?
Answer:
1. In usually , it still can working well
2. As our power supply support work at 240-250VAC all the time
3. But if the power more than 240-250VAC and running all the time , the power supply will be broken soon
4. The solution is add over or lower voltage protect function on the input of power supply
Question : Does the power supply will be test in full load before shipping ?
Answer: Yes
1.The statement about all of our adjustable dc power supply have all been full load and 50% load were
aging before shipping for 2-8 hours
2. If the power more than 3000w, the ageing time will be more longer , about 12-15hours
Question : Does Positive and negative output can switch in auto or manual? If yes, what is the Switching
interval time ? is it control by a switch or by time relay ?
Answer:
1. It is control by time relay in auto
2. The buyer should be confirm to us before purchase for how long you want to switch
3. For example, if you want to switch Positive and negative output 1s. then we can set it before factory
Company Information
electrical equipment supplies 1A 1000v dc power supply
Send your inquire details in the below,Click "Send" now! 1A 1000v dc power supply